Why pay more for your eavestrough renovation project?
We use the best material in town and have competitive Gutter Clean prices. CW Eavestroughing won't sell you products you don't need... and all our work is guaranteed, with after-service being an important part of the company policy. We will work hard to meet your eavestrough needs and all estimates are no charge.
CW Eaves offers highly competitive pricing for your home eavestrough replacement. We use high quality 28 gauge steel eavestrough with aluminum down pipes. The eavestrough coil is galvanized, primed and finished with baked on enamel paint. We install our trough with spikes and ferrules as this has proven to be stronger than hangers.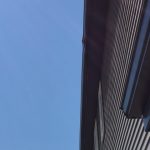 This photo above is an example of what we DON'T do. Click the image for more information.
The average lifespan of eavestrough is 20-25 years.
Click an image to zoom in.
Gutter Clean
C. W. Eavestroughing Inc. is proud to offer an excellent product to keep your eavestrough free of leaves, pine needles, and other debris. If you have trees around your house, this is the best leaf guard we've seen. Gutter Clean is a system developed and produced in Canada, for Canadian weather. A little bit of wind is all it takes to blow debris off Gutter Clean's non-stick surface, maintaining optimum eavestrough performance.